When we bet in the football markets, many of us like to look for something that's a little more obscure. The list of prop bets is a huge one with some sportsbooks offering over a hundred different markets for the biggest games around the world.
In this article we'll be looking at cards and corners. It may not be familiar to you but if you carry out plenty of research, you can find some good value.
Recommended Bookmakers
As you will have picked up throughout this review, card and corner picks are not listed by every bookmaker so, if these markets sound interesting, you will need to know which sportsbooks get involved.
Here are our recommendations:
Best Sportsbook for Nigerian players

Betway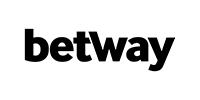 They first came online in 2007 and quickly became one of the most popular sportsbooks in the UK. That reach is now starting to spread around the world and Betway always work hard to get into countries where others stay away due to strict regulating.
Innovative prop bets have been part of the Betway philosophy for a number of years and you should find a good choice of card and corner picks here. Pricing is always competitive, particularly on football so don't overlook them when seeking out this type of bet.

Royal Panda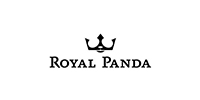 One of the newer operators on the circuit, Royal Panda are well known for their casino but the sportsbook platform is attracting lots of interest. Among the positives here are some competitive prices but it's the wide set of side bets that really interests us.
Royal Panda have now been accepted onto the main odds comparison sites so you can easily check on what they have to offer.

Sports Interaction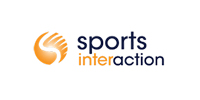 North American bettors tend to head to Sports Interaction before anyone else and as Canada's leading sportsbook, that's understandable. However, we urge you to check them out no matter where you happen to be based.
Strong pricing and a wide set of side bets combine to make this a logical choice if you're looking for obscure markets such as card and corner picks.

Pinnacle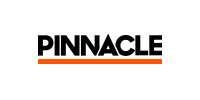 Founded in 1998, Pinnacle are one of the oldest sports betting brands around and they have a big presence in North America and other specific parts of the world. Soccer is a big focus for the company who always feature upcoming games in the middle of their homepage and there can typically be over 60 markets for each match.
Included in that selection is a good range of prop bets including card and corner options. Like all sportsbooks on this list, you should find odds to be generous and in step with the rest of the industry.

Yellow Card Picks
Only a very tiny percentage of football matches will end without a yellow card being issued. Bookings are made for soft infringements and we can expect at least one yellow to be shown during any game.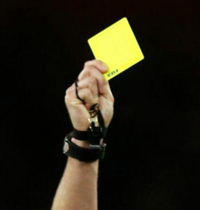 You will not, therefore, find a regular market for at least one booking to be made. In the past, we have seen special promotions for first time customers from certain bookies relating to this. These were enhanced odds deals where odds of 25/1 or higher would be paid out on a fixed stake of £1.00 if a yellow was issued.
If you can see these deals moving forward then this is about as certain a bet as you will find on a football field but they seem to have died out for now. We'll therefore go back to regular betting and while single card options don't exist, we do have certain picks to look at.
Firstly, certain bookmakers will publish a market on which team will get a yellow card first. It's essentially a 50/50 pick although there will be a third option for No Booking where the average odds come in at around 14/1. You can also bet on the first player to receive a yellow and in this instance, the favourites can be found at around the 5/1 mark.
That's obviously tougher to call so you could look at individual players and decide on whether they will be booked at any point in the game. Certain players have those reputations for attracting the wrath of the referee and while the odds can be shorter here, this market might just be easier to predict.
Sports betting often comes back to numbers and that's the case with yellow card betting. It's not a market that many bookies embrace but it is possible to find bets for total cards where a line is set at around the 3.5 mark. Your job is to decide whether or not to bet over or under that line.
Odds
We've touched on some of the odds involved but here is a quick recap. When you're betting on which team will receive the first yellow, the pricing will be very close. One team is likely to be a close odds on pick while the other will just head over Even Money. With some sportsbooks, you may even see both teams quoted at 10/11. The No Booking completes this with an average price of around 14/1 but this might just extend up to 20/1.
As for first player booking, the favourites come in at around the 5/1 point and we move through the squad until we come to odds of 33/1 and possibly longer for fringe players and substitutes.
For odds on a player to receive a yellow, 7/5 is a regular starting point and this can go down to 25/1 in places.
Finally, on that Over and Under bet, the odds are close once again with 8/11 a typical price for Under 3.5 and Even Money a common figure for Over 3.5
Red Card Picks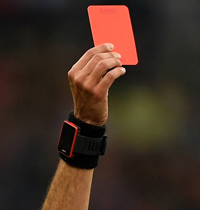 A sending off is a rare event when compared to a booking so we should be able to find some longer prices relating to red cards. The first piece of good news here is that there is a market for Yes / No on a Sending Off. A small set of bookies will publish prices for at least one red card during a game, so this is a good place to start.
From that point, however, options are a little limited. You'll need to refer back to the previous section as certain markets apply to both yellow and red cards. For example, in the To Be Shown a Card option that was mentioned earlier, the bet would pay out irrespective of the colour of the card that was issued.
Odds
The odds for at least one red card to be issued in a match are interesting. They can be common occurrences but a typical price for a Sending Off is 4/1. In contrast, taking the no option in this market will see short odds-on numbers extending to about 1/7.
For all other red card pricing, please refer to the previous section for alternative markets.
Corner Picks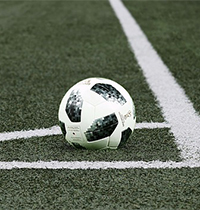 Once again, a corner is such a common occurrence in a football match that you won't see a straight Yes or No pick in the standard markets. Those enhanced odds deals occasionally provided this option but they started to disappear around the summer of 2019.
There are, however, a range of options and they start with which team will be awarded the first corner. This is as close to 50/50 as you will get although one or two bookies will publish figures for No Corners.
Moving forward, you can also place a bet on the team who you think will earn the most corners during the match. Once again, there are three bets with the draw coming in as a genuine option.
To round off this section, we come on to totals and there are two distinct markets here – Total Corners in the Match and Total Corners in the First Half. Unlike the Total Cards betting, there are lots of alternatives to be found here with lines starting at 4.5 and ending at 20.5. These are tough to call but research into form and head to head results between the two sides in question can bring its rewards.
Odds
You might expect that the odds for first corner betting would be almost identical for both teams but that isn't the case. The side who are favourites to win the match will get an odds on figure for first corner while their opponents will be above Even Money at around 6/4 or longer. The few bookmakers that quote No Corners will regularly give you odds of 125/1.
In the most corners market, the prices are similar although the draw is a much shorter third option at around 7/1.
Then we come to Total Corners and there is a huge range to choose from here. As two examples, betting Over 4.5 corners in the game may return odds of 1/75 while a mid-range bet suich as Under 10.5 is typically listed at 4/5 or similar.
Yellow Cards
Corners
Total
WON
%
Total
WON
%
Total
572
402
71
1507
1041
70
2016
140
110
79
183
109
60
March
22
18
82
32
19
60
February
58
43
75
76
45
60
January
60
49
82
75
45
60
2015
359
241
67
1212
835
69
December
50
32
64
61
42
69
November
42
23
55
57
40
71
October
32
26
82
68
50
74
September
31
20
65
110
81
74
August
46
36
79
157
95
61
July
0
0
0
56
46
83
June
0
0
0
42
21
50
May
36
26
73
155
97
63
April
34
22
65
143
100
70
March
24
16
67
138
98
72
February
29
20
69
122
91
75
January
35
20
58
103
74
72
2014
73
51
70
112
97
87
December
48
37
78
78
67
86
November
25
14
57
34
30
89
Note*: Yellow Cards picks avg. odds – 1.85 / Corners picks avg. odds – 1.75 This is no longer betting! This is a consistent business with yield up to 20%
Play with us – Bet and Relax
Yellow Card Predictions
Match info
Rates
Status
Date
Time
Fl
Country
League Name
Home Team
Away Team
PrR (YC)
VIP
03/18/2016
09:40
Australia
A-League
Melbourne City
Brisbane Roar
Low
MEM
03/18/2016
15:00
Russia
Premier League
Amkar
FK Rostov
Medium
MEM
03/18/2016
17:30
Russia
Premier League
Anzhi
Spartak Moscow
Weak
MEM
03/18/2016
18:00
Czech Republic
Synot liga
Jihlava
Pribram
Medium
MEM
03/18/2016
18:00
Denmark
Superliga
Aalborg
Aarhus
Medium
MEM
03/18/2016
18:00
Poland
Ekstraklasa
Korona Kielce
Piast Gliwice
Weak
MEM
03/18/2016
18:00
Turkey
Super Lig
Kayserispor
Eskisehirspor
Medium
MEM
03/18/2016
18:30
Germany
2. Bundesliga
Heidenheim
FSV Frankfurt
Weak
MEM
03/18/2016
18:30
Germany
2. Bundesliga
Paderborn
Duisburg
Medium
MEM
03/18/2016
18:30
Germany
2. Bundesliga
Union Berlin
Braunschweig
Low
MEM
03/18/2016
19:00
Norway
Tippeligaen
Tromso
Start
Low
MEM
03/18/2016
19:00
Turkey
Super Lig
Akhisar Genclik Spor
Rizespor
Low
MEM
03/18/2016
20:00
Netherlands
Eredivisie
Utrecht
Excelsior
Low
MEM
03/18/2016
20:30
France
Ligue 1
Marseille
Rennes
Low
MEM
03/18/2016
20:30
Germany
Bundesliga
Schalke
B. Moenchengladbach
High
VIP
03/18/2016
20:30
Italy
Serie B
Entella
Spezia
Weak
MEM
03/18/2016
20:30
Poland
Ekstraklasa
Wisla
Jagiellonia
Low
MEM
03/18/2016
20:30
Spain
Primera Division
Getafe
Eibar
Weak
MEM
03/18/2016
20:45
England
Championship
Middlesbrough
Hull City
Medium
MEM
03/18/2016
21:30
Portugal
Primeira Liga
Rio Ave
Maritimo
Low
MEM
03/19/2016
07:15
Australia
A-League
Central Coast Mariners
Sydney FC
Low
MEM
03/19/2016
09:30
Australia
A-League
Sydney Wanderers
Adelaide United
Medium
MEM
03/19/2016
12:30
Russia
Premier League
Ufa
Dynamo Moscow
Low
MEM
03/19/2016
12:30
Turkey
Super Lig
Osmanlispor
Genclerbirligi
Low
MEM
03/19/2016
13:00
Germany
2. Bundesliga
Dusseldorf
Kaiserslautern
Low
MEM
03/19/2016
13:00
Germany
2. Bundesliga
Sandhausen
St. Pauli
Weak
MEM
03/19/2016
13:30
England
Championship
Derby
Nottingham
Medium
MEM
03/19/2016
13:30
Scotland
Premiership
Kilmarnock
Celtic
Weak
MEM
03/19/2016
13:45
England
Premier League
Everton
Arsenal
Medium
MEM
03/19/2016
14:00
Greece
Super League
Skoda Xanthi
Levadiakos
Weak
MEM
03/19/2016
15:00
Czech Republic
Synot liga
Bohemians 1905
Slovacko
Medium
MEM
03/19/2016
15:00
Czech Republic
Synot liga
Brno
Dukla Prague
Low
MEM
03/19/2016
15:00
Czech Republic
Synot liga
Ostrava
Teplice
Medium
MEM
03/19/2016
15:00
Czech Republic
Synot liga
Zlin
Sigma Olomouc
Medium
MEM
03/19/2016
15:00
Italy
Serie B
Lanciano
Cesena
Weak
MEM
03/19/2016
15:00
Italy
Serie B
Latina
Brescia
Low
MEM
03/19/2016
15:00
Italy
Serie B
Modena
Como
Low
MEM
03/19/2016
15:00
Italy
Serie B
Novara
Bari
Weak
MEM
03/19/2016
15:00
Italy
Serie B
Perugia
Salernitana
Medium
MEM
03/19/2016
15:00
Italy
Serie B
Pro Vercelli
Ascoli
Medium
MEM
03/19/2016
15:00
Italy
Serie B
Trapani
Livorno
Low
MEM
03/19/2016
15:00
Italy
Serie B
Vicenza
Cagliari
Weak
MEM
03/19/2016
15:00
Russia
Premier League
Terek Grozni
Ural
Weak
MEM
03/19/2016
15:00
Turkey
Super Lig
Trabzonspor
Sivasspor
Low
MEM
03/19/2016
15:30
Germany
Bundesliga
Koln
Bayern Munich
High
VIP
03/19/2016
15:30
Germany
Bundesliga
Hamburger SV
Hoffenheim
Low
MEM
03/19/2016
15:30
Germany
Bundesliga
Hertha Berlin
Ingolstadt
Low
MEM
03/19/2016
15:30
Germany
Bundesliga
Werder Bremen
Mainz
Low
MEM
03/19/2016
15:30
Germany
Bundesliga
Wolfsburg
Darmstadt
Weak
MEM
03/19/2016
15:30
Norway
Tippeligaen
Haugesund
Aalesund
Medium
MEM
03/19/2016
15:30
Poland
Ekstraklasa
Podbeskidzie
Gornik Z.
Medium
MEM
03/19/2016
16:00
Denmark
Superliga
Hobro
Odense
Medium
MEM
03/19/2016
16:00
England
Premier League
Chelsea
West Ham
Low
MEM
03/19/2016
16:00
England
Premier League
Crystal Palace
Leicester
Weak
MEM
03/19/2016
16:00
England
Premier League
Watford
Stoke City
Medium
MEM
03/19/2016
16:00
England
Premier League
West Brom
Norwich
High
VIP
03/19/2016
16:00
England
Championship
Birmingham
Fulham
Weak
MEM
03/19/2016
16:00
England
Championship
Brentford
Blackburn
Weak
MEM
03/19/2016
16:00
England
Championship
Bristol City
Bolton
Medium
MEM
03/19/2016
16:00
England
Championship
Burnley
Wolves
Medium
MEM
03/19/2016
16:00
England
Championship
Ipswich
Rotherham
Medium
MEM
03/19/2016
16:00
England
Championship
Leeds
Huddersfield
Medium
MEM
03/19/2016
16:00
England
Championship
Milton Keynes Dons
Brighton
Weak
MEM
03/19/2016
16:00
England
Championship
Preston
QPR
Low
MEM
03/19/2016
16:00
England
Championship
Reading
Cardiff
Low
MEM
03/19/2016
16:00
England
Championship
Sheffield Wed
Charlton
Weak
MEM
03/19/2016
16:00
Scotland
Premiership
Hamilton
Partick
Weak
MEM
03/19/2016
16:00
Scotland
Premiership
Hearts
St Johnstone
Weak
MEM
03/19/2016
16:00
Scotland
Premiership
Motherwell
Aberdeen
Low
MEM
03/19/2016
16:00
Scotland
Premiership
Ross County
Inverness
Weak
MEM
03/19/2016
16:00
Spain
Primera Division
Gijon
Atl. Madrid
High
VIP
03/19/2016
16:15
Greece
Super League
Veria
Platanias FC
Weak
MEM
03/19/2016
17:00
France
Ligue 1
St Etienne
Montpellier
Weak
MEM
03/19/2016
17:30
Russia
Premier League
CSKA Moscow
Kuban
Weak
MEM
03/19/2016
17:45
Switzerland
Super League
Thun
Luzern
Low
MEM
03/19/2016
18:00
Czech Republic
Synot liga
Mlada Boleslav
Jablonec
Medium
MEM
03/19/2016
18:00
Italy
Serie A
Empoli
Palermo
Medium
MEM
03/19/2016
18:00
Norway
Tippeligaen
Rosenborg
Stromsgodset
Medium
MEM
03/19/2016
18:00
Poland
Ekstraklasa
Slask Wroclaw
Ruch
Medium
MEM
03/19/2016
18:00
Turkey
Super Lig
Besiktas
Antalyaspor
Weak
MEM
03/19/2016
18:15
Spain
Primera Division
Granada CF
Rayo Vallecano
Medium
MEM
03/19/2016
18:15
Spain
Primera Division
Real Sociedad
Las Palmas
Weak
MEM
03/19/2016
18:30
England
Premier League
Swansea
Aston Villa
Low
MEM
03/19/2016
18:30
Germany
Bundesliga
Eintracht Frankfurt
Hannover
Weak
MEM
03/19/2016
18:30
Greece
Super League
Panathinaikos
Iraklis
Medium
MEM
03/19/2016
18:30
Netherlands
Eredivisie
Heerenveen
Heracles
Weak
MEM
03/19/2016
19:30
Portugal
Primeira Liga
Sporting
Arouca
Weak
MEM
03/19/2016
19:45
Netherlands
Eredivisie
Feyenoord
Graafschap
Low
MEM
03/19/2016
19:45
Netherlands
Eredivisie
Zwolle
Willem II
Low
MEM
03/19/2016
20:00
France
Ligue 1
Angers
Lorient
Low
MEM
03/19/2016
20:00
France
Ligue 1
Caen
Troyes
Low
MEM
03/19/2016
20:00
France
Ligue 1
Lille
Toulouse
High
VIP
03/19/2016
20:00
France
Ligue 1
Reims
Guingamp
Medium
MEM
03/19/2016
20:00
Switzerland
Super League
St. Gallen
Young Boys
Medium
MEM
03/19/2016
20:30
Poland
Ekstraklasa
Lech Poznan
Legia
Low
MEM
03/19/2016
20:30
Spain
Primera Division
Dep. La Coruna
Levante
High
VIP
03/19/2016
20:45
Italy
Serie A
AS Roma
Inter
Weak
MEM
03/19/2016
20:45
Netherlands
Eredivisie
Cambuur
Roda
Low
MEM
03/19/2016
21:00
France
Ligue 1
Lyon
Nantes
High
VIP
03/19/2016
21:45
Portugal
Primeira Liga
Setubal
FC Porto
Weak
MEM
03/19/2016
22:05
Spain
Primera Division
Betis
Malaga
High
VIP
03/20/2016
05:00
Australia
A-League
Wellington Phoenix
Perth Glory
Low
MEM
03/20/2016
07:00
Australia
A-League
Melbourne Victory
Newcastle Jets
Low
MEM
03/20/2016
12:00
Denmark
Superliga
Sonderjyske
Midtjylland
Weak
MEM
03/20/2016
12:00
Spain
Primera Division
Espanyol
Ath Bilbao
Weak
MEM
03/20/2016
12:30
Italy
Serie A
Atalanta
Bologna
Medium
MEM
03/20/2016
12:30
Netherlands
Eredivisie
Twente
AZ Alkmaar
Weak
MEM
03/20/2016
12:30
Russia
Premier League
Krylya Sovetov Samara
Zenit Petersburg
High
VIP
03/20/2016
12:30
Turkey
Super Lig
Konyaspor
Basaksehir
Weak
MEM
03/20/2016
12:30
Turkey
Super Lig
Mersin
Gaziantepspor
Medium
MEM
03/20/2016
13:30
Germany
2. Bundesliga
Bochum
Greuther Furth
Low
MEM
03/20/2016
13:30
Germany
2. Bundesliga
Munich 1860
Arminia Bielefeld
Medium
MEM
03/20/2016
13:30
Germany
2. Bundesliga
Nurnberg
RB Leipzig
Low
MEM
03/20/2016
13:30
Scotland
Premiership
Dundee Utd
Dundee FC
Weak
MEM
03/20/2016
13:45
Switzerland
Super League
Grasshoppers
Lugano
Low
MEM
03/20/2016
13:45
Switzerland
Super League
Vaduz
Zurich
Weak
MEM
03/20/2016
14:00
Denmark
Superliga
Randers FC
Viborg
Medium
MEM
03/20/2016
14:00
France
Ligue 1
Bordeaux
Bastia
High
VIP
03/20/2016
14:00
Greece
Super League
Panetolikos
AEK
Weak
MEM
03/20/2016
14:30
England
Premier League
Newcastle Utd
Sunderland
High
VIP
03/20/2016
14:30
England
Premier League
Southampton
Liverpool
High
VIP
03/20/2016
14:30
Netherlands
Eredivisie
Den Haag
Nijmegen
Low
MEM
03/20/2016
14:30
Netherlands
Eredivisie
Groningen
Vitesse
Weak
MEM
03/20/2016
15:00
Italy
Serie A
Frosinone
Fiorentina
Low
MEM
03/20/2016
15:00
Italy
Serie A
Sampdoria
Chievo
Medium
MEM
03/20/2016
15:00
Italy
Serie A
Sassuolo
Udinese
Weak
MEM
03/20/2016
15:00
Italy
Serie A
Torino
Juventus
Low
MEM
03/20/2016
15:00
Italy
Serie A
Verona
Carpi
High
VIP
03/20/2016
15:00
Russia
Premier League
Rubin Kazan
M. Saransk
Medium
MEM
03/20/2016
15:00
Turkey
Super Lig
Bursaspor
Kasimpasa
Weak
MEM
03/20/2016
15:30
Germany
Bundesliga
VfB Stuttgart
Bayer Leverkusen
Weak
MEM
03/20/2016
15:30
Norway
Tippeligaen
Sogndal
Valerenga
Weak
MEM
03/20/2016
15:30
Poland
Ekstraklasa
Lechia Gdansk
Termalica
Weak
MEM
03/20/2016
15:30
Poland
Ekstraklasa
Leczna
Zaglebie
Low
MEM
03/20/2016
15:45
Czech Republic
Synot liga
Liberec
Plzen
Weak
MEM
03/20/2016
16:00
Denmark
Superliga
Nordsjaelland
FC Copenhagen
Low
MEM
03/20/2016
16:00
Spain
Primera Division
Villarreal
Barcelona
High
VIP
03/20/2016
16:00
Switzerland
Super League
Sion
Basel
Low
MEM
03/20/2016
16:15
Greece
Super League
Panthrakikos
Atromitos
Weak
MEM
03/20/2016
16:15
Greece
Super League
PAOK
Kalloni
Weak
MEM
03/20/2016
16:45
Netherlands
Eredivisie
PSV
Ajax
Weak
MEM
03/20/2016
17:00
England
Premier League
Manchester City
Manchester United
Medium
MEM
03/20/2016
17:00
England
Premier League
Tottenham
Bournemouth
Medium
MEM
03/20/2016
17:00
France
Ligue 1
Nice
GFC Ajaccio
Medium
MEM
03/20/2016
17:00
Portugal
Primeira Liga
Academica
Estoril
Medium
MEM
03/20/2016
17:00
Portugal
Primeira Liga
Ferreira
Moreirense
Weak
MEM
03/20/2016
17:00
Portugal
Primeira Liga
Nacional
Guimaraes
Low
MEM
03/20/2016
17:00
Portugal
Primeira Liga
Tondela
Belenenses
Low
MEM
03/20/2016
17:30
Germany
Bundesliga
Augsburg
Dortmund
High
VIP
03/20/2016
17:30
Italy
Serie B
Crotone
Pescara
Weak
MEM
03/20/2016
17:30
Russia
Premier League
Krasnodar
Lokomotiv Moscow
Low
MEM
03/20/2016
18:00
Denmark
Superliga
Brondby
Esbjerg
Low
MEM
03/20/2016
18:00
Italy
Serie A
Napoli
Genoa
Medium
MEM
03/20/2016
18:00
Norway
Tippeligaen
Brann
Odd
Weak
MEM
03/20/2016
18:00
Norway
Tippeligaen
Lillestrom
Bodo/Glimt
Weak
MEM
03/20/2016
18:00
Norway
Tippeligaen
Viking
Sarpsborg 08
Low
MEM
03/20/2016
18:00
Poland
Ekstraklasa
Pogon Szczecin
Cracovia
Weak
MEM
03/20/2016
18:15
Spain
Primera Division
Valencia
Celta Vigo
Weak
MEM
03/20/2016
18:30
Greece
Super League
Asteras Tripolis
Olympiakos Piraeus
Low
MEM
03/20/2016
19:00
Turkey
Super Lig
Galatasaray
Fenerbahce
Weak
MEM
03/20/2016
19:15
Portugal
Primeira Liga
Boavista
Benfica
Low
MEM
03/20/2016
19:30
Czech Republic
Synot liga
Sparta Prague
Slavia Prague
Weak
MEM
03/20/2016
20:00
Norway
Tippeligaen
Stabaek
Molde
Low
MEM
03/20/2016
20:30
Spain
Primera Division
Real Madrid
Sevilla
Weak
MEM
03/20/2016
20:45
Italy
Serie A
AC Milan
Lazio
Weak
MEM
03/20/2016
21:00
France
Ligue 1
Paris SG
Monaco
Low
MEM
03/20/2016
21:30
Portugal
Primeira Liga
Braga
U. Madeira
Weak
MEM
03/21/2016
18:30
Greece
Super League
Giannina
Panionios
Medium
MEM
03/21/2016
20:15
Germany
2. Bundesliga
Freiburg
Karlsruher
Weak
MEM
03/21/2016
20:30
Italy
Serie B
Avellino
Ternana
Low
MEM